"We will do everything possible to make you
the happiest person in the world."
Welcome to Maple Lake Resort and Maple Lake
Resort Ranch
Welcome to Maple Lake Resort, a family owned and operated residential seasonal RV campground nestled in 350 acres of beautiful scenic wooded forest at Maple Lake. Maple Lake is approximately 7 miles long and is located near Mentor, MN. The lake offers excellent fishing and recreational activities.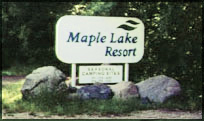 RV campground sites are available for just about any ones liking. If you like seclusion we have it, if you like some sun with shade, we have it, or if you like to be in the middle of wildlife, with deer running through the woods, we definitely have it at Maple Lake Resort.
The resort is one of the newest seasonal RV campground resorts in the area to offer residential style seasonal camping. You pick your own RV site and do whatever you want to make it your home away from home. You are allowed to have your own deck, shed, and even design your own landscaping. This is what makes the RV resort so unique from others. Our motto is, if you would do it at home, than why not do it at Maple Lake Resort. You might even want to have a contest with your neighbor for who has the nicest landscaping. It's true, you wouldn't believe the competition that has been going on for who has the best rock garden and who has the prettiest flowers. It's all part of the relationships that have been forming amongst the friends at Maple Lake Resort.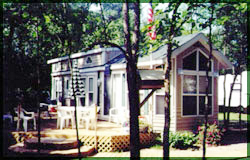 Bring your golf cart or bicycle and enjoy our trails that wind through the beautiful wooded resort. We even have our own 20 acre swimming lake located on the premises for a quiet mid-afternoon picnic or let the kids enjoy some paddle boating or canoeing while you're kicking back and enjoying laying on the beach in the sun. Keep your evenings free though, to take a group golf cart ride through the resort with your family and friends or to relax around your campfire to roast hot dogs and marshmallows and prepare for the adventures of the following day.